WELCOME TO ARECA HOTEL
Areca Hotel is located in the Commercial Center of Dam Market. A convenient location for shopping, entertainment or walking. It takes 5 minutes walk to the beach, with fresh air, luxurious and courteous. This is an ideal place for your holidays or business trip to Nha Trang.
Designed in a luxurious, modern style and full of services which reaches standard. It has 18 floors and 146 well-equipment rooms with windows, city view, sea view, modern facilities and amenities that will provide you with an unforgettable experiences…
Coming to Areca Hotel, you will always be welcomed and serviced by our professional staffs, with the motto "Today's service will be better than tomorrow" will definitely make your trip to Nha Trang more impressive and memorable.
Let's come to Areca Hotel, you will feel this place is your second home.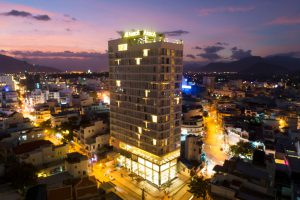 RESTAURANT

Capacity 250 eating guests, with elegant and modern architecture, you will be able to experience a variety of luxurious and romantic meals in different styles such as Oriental, Western and European in our restaurant.
Details
SWIMMING POOL

Located on the 18th floors. You can immerse yourself in the cool blue water of the outdoor infinity pool and panoramic view of beautiful Nha Trang city.
Details
Home